Despite it being one of the most commercialized holidays around, I have to admit, I love Valentine's Day. While I'm happily partnered these days, even during my single years I found it fun, and enjoyed showering my friends and family with cards and gifts.
I think the most appreciated gifts are homemade ones, as it shows our loved ones that we care enough to put in the effort to create something special just for them. These are some of my favorite homemade treats, and best of all, even though they look fancy, they really aren't that difficult to make. These recipes can also be tweaked to suit any taste, making it really easy to personalize them for your favorite valentine!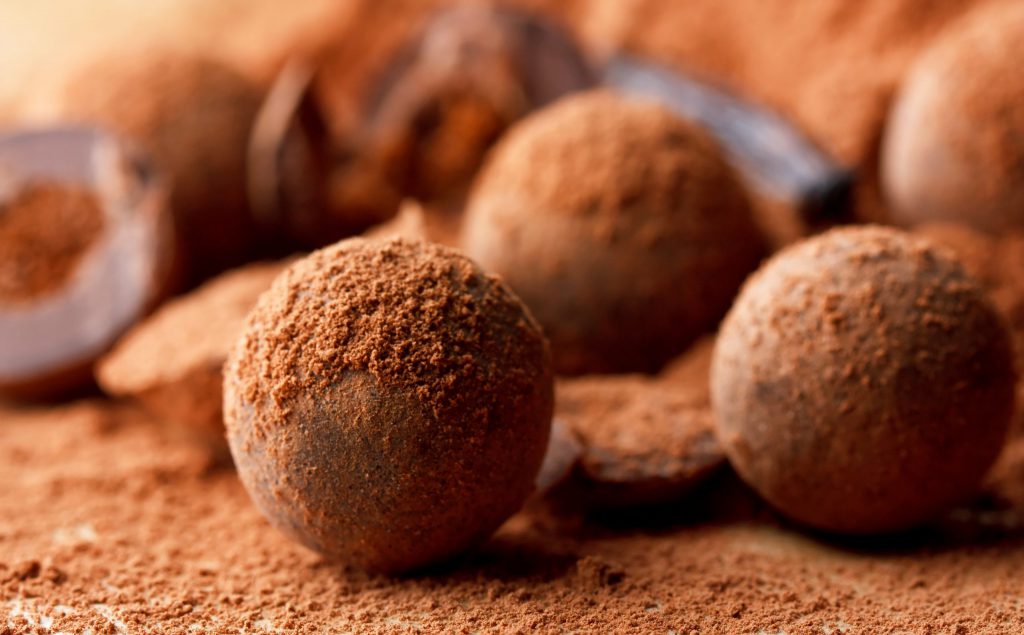 Chocolate Truffles
Truffles might seem complicated, but they actually only require a few ingredients. This recipe calls for them to be rolled in cocoa powder, but you can also roll them in candy sprinkles, nuts, powdered sugar, or a mixture of cocoa powder and espresso powder for a "mocha" flavor.
8 oz semi-sweet chocolate pieces
½ cup heavy whipping cream
1 tsp vanilla
¼ cup cocoa powder
Place the chocolate in a bowl. Heat the heavy cream to a low simmer (hot, but not boiling) and pour it over the chocolate, then add vanilla. Stir until smooth, then refrigerate until it is cooled completely. Using a melon baller, teaspoon, or your hands, form the mixture into 1-inch balls, placing on a parchment-lined cookie sheet. Refrigerate again for several hours, then roll in cocoa powder. These should be stored in the refrigerator and will keep for 3-5 days.
White Chocolate Candy Cups
This is another easy and versatile chocolate recipe, consisting of just two main ingredients and leaving you with the option of adding anything else you like. You can stir chopped nuts into these, top them with rainbow sprinkles, or add food coloring or flavored extracts – anything goes with these cute candy cups!
8oz white chocolate melting candy discs or white chocolate chips
3 tablespoons coconut oil
Melt both ingredients over low heat, stirring often until smooth. Allow to cool slightly, then add in nuts, food coloring or flavored extracts. Line a mini muffin tray with paper liners and carefully pour the chocolate into each one. Top with sprinkles or any other candies you'd like, then refrigerate for at least four hours or until firm. Store in the fridge or freezer in an airtight container.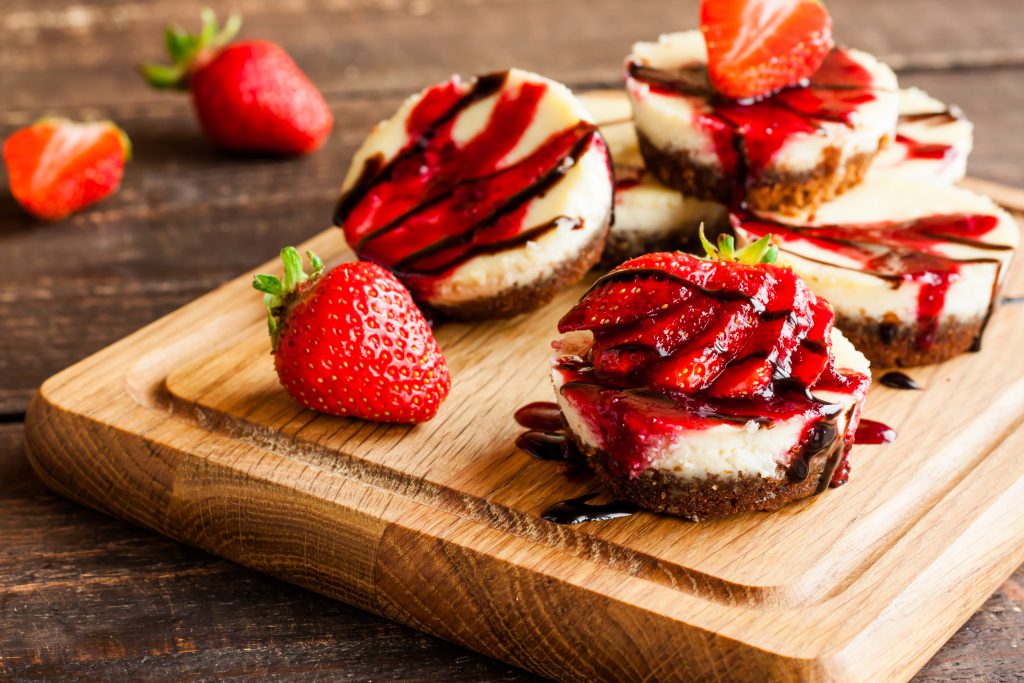 Mini Strawberry Cheesecakes
Cheesecake always seems to be the one recipe I struggle to get right, but these mini strawberry cheesecakes are perfect every single time I make them. If strawberry's not your thing, you can substitute any fruit topping or canned pie filling.
Cheesecakes:
1 cup graham cracker crumbs
3/4 cup plus 2 tablespoons sugar
3 tablespoons butter, melted
3 packages (8 oz) cream cheese
1 teaspoon vanilla
3 eggs, room temperature
Topping:
2 cups sliced strawberries
1/3 cup sugar
1 teaspoon vanilla
Preheat the oven to 325°. Combine the graham cracker, 2 tablespoons sugar, and melted butter in a bowl until well-mixed. Place cupcake liners in 24 muffin tins and press the crust mixture in the bottom of each liner. Bake for 5 minutes, then remove and cool.
In a large bowl, mix the cream cheese, 3/4 cup sugar and vanilla until smooth. Add eggs, one at a time, beating on low speed until combined. Pour the cream cheese mixture over the crusts and bake for 25-30 minutes. Allow to cool and place in the refrigerator for at least one hour so they set up.
Topping:
Combine sliced berries, sugar and vanilla in a saucepan, cooking over medium-high heat until just bubbling, then reduce heat slightly and continue cooking for 10-15 minutes, until the sauce thickens. Allow to cool completely.
Top cheesecakes with strawberry sauce and whipped cream just prior to serving.
Sweetheart Chex Mix
While everybody loves some savory Chex mix during the holidays, this sweet version is fun to make and share with loved ones for Valentine's Day. This is another recipe where you can get creative and substitute any of your own favorites, whether you want to use milk chocolate instead of white, or mix in other candies.
6 cups rice or corn Chex
2 cups mini marshmallows
1 cup mini pretzels
2 cups white chocolate pieces
1 teaspoon shortening
1 box conversation hearts
Rainbow or pink/red candy sprinkles
Red food coloring
Line a rimmed cookie sheet with wax paper. In a large bowl, combine Chex, marshmallows, and pretzels. Melt the chocolate with the shortening in a small saucepan, stirring often, until smooth, or microwave in 20-30 second increments, stirring each time until fully melted. Reserve a couple tablespoons and add a drop of red food coloring, set aside. Pour the white chocolate into cereal mixture and mix well, then spread the mixture on the cookie sheet.
Drizzle the now-pink colored reserved chocolate on the mixture, then top with conversation hearts and sprinkles. Allow to cool completely, then break into smaller pieces. Store in airtight containers or large Ziploc bags at room temperature.