Thinking of going-plant based but confused how to do it? You're not alone. A recent 2020 survey conducted by researchers at Yale and the Earth Day Network found that over half of Americans are open to eating plant-based meals, but don't know what to buy.
The second problem many have is the misconception that omitting meat can be expensive, but have no fear, that is a myth. We've rounded up our favorite hacks on how to eat plant-based on a budget:
Stick to whole foods instead of processed foods.
When it comes to a plant-based diet, some of the first things that may come to your mind are alternative meats like the Beyond Burger or Impossible Burger. Believe it or not, these plant-based meat alternatives are actually more expensive than traditional whole foods. They're also filled with processed ingredients such as food colorings and hydrogenated oils, so experts recommend eating them in moderation.
If you are a fan of plant-based meat, you may want to try making burger patties yourself at home with whole foods. There are a variety of options that are relatively inexpensive at the store such as brown rice, beans, lentils, and peas that can be used in a variety of dishes and cuisines.
Here's one of my favorite recipes that I use often to make a vegan burger with whole grains:
Plant-Based Burger
Yield: 4-5 burger patties
Ingredients:
● 1 cup of cooked brown rice (you can also use quinoa, oats, or wild rice)
● 1 can of black beans (you can also use chickpeas, pinto beans, or kidney beans)
● 2 teaspoons of extra virgin olive oil
● 1 small diced red onion
● 1 tablespoon of minced garlic
● 2 tablespoons of ground flaxseed
● 1 teaspoon of coriander powder
● 1 teaspoon of cumin powder
● 1 teaspoon of chili powder (optional)
● ¼ cup of unsalted breadcrumbs
● Salt and pepper to taste
Directions:
In a bowl, mash the beans and rice together. Add the ground flaxseed, coriander powder, cumin powder, chili powder, breadcrumbs, salt, and pepper. Mix well to combine everything and set aside.
In a small pan, saute the onion, garlic, and oil on medium heat. Once the onions look translucent, turn off the flame and pour the contents of the pan into the bowl with the burger mixture.
Heat a medium sized pan on medium heat with a teaspoon of oil. Divide your burger mixture into four or five patties and place no more than two in the pan at a time. Cook each patty for about three to four minutes on each side.
Assemble burgers with your patties using buns of your choice, lettuce, tomatoes, and plant-based cheese. Bon Appétit!
Make a grocery list and stick to it.
Making a trip to the grocery store can feel like an adventure sometimes. We've all had our moments when we search aisle after aisle and add things into our cart that we never even planned on purchasing in the first place. One way you can avoid spending more money than you intend to is by creating a grocery list before your trip to the supermarket.
Build a list which products you plan to buy and if it's helpful, add what aisle those products are in at the grocery store. Additionally, remember to view the weekly ad at your local store before your trip so you do not miss out on any sales. During your trip, make sure to buy everything on your list and if you see a product that's off=list, but grabs your interest, make a plan for that: You can budget an amount for spontaneous products ahead of time so you don't miss out on something you really want to try.
Buy food in bulk or family size.
If you want a hefty discount on your favorite plant-based products, you may want to consider buying them in bulk. However, not all foods lend themselves to mass buying, especially fresh fruit and vegetables as they are perishable.
Only purchase items in bulk that have a high shelf-life like canned vegetables, pasta, rice, beans, and bags of frozen food. A lot of these items can be purchased at grocery warehouses like Costco, Sam's Club, and Gordon Food Service Store. You can also order them online via Amazon or directly from the product's official site.
Engage in batch cooking and freeze larger meals.
If you don't like cooking often, this tip is definitely for you. Batch cooking is a convenient method of meal preparation which involves cooking in batches. Basically, it entails cooking a bunch of dishes at once – like once a week – and having them ready for weeknight meals.
Some of the simplest dishes to make ahead for the week include soups, stir-frys, and salads. Make sure to store all of your dishes in an airtight container and store condiments on the side, such as salad dressings or dips, so the food stays fresh and does not become soggy. If you do not prefer to eat the same meal every week, you can do something like boiling beans or lentils ahead of time to use in a variety of different dishes such as tacos, stews, or soups.
Here's one of my favorite salad recipes to make ahead for the week. It's best paired with a slice of bread or a side of vegetable soup.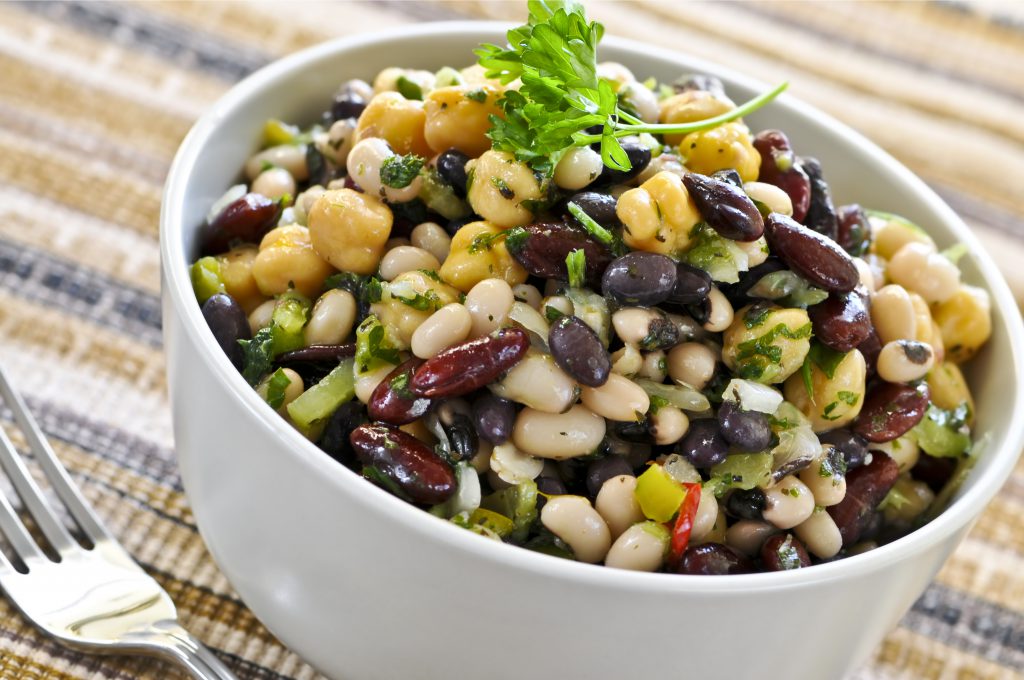 Veggie Bean Salad
Yield: 6 servings
Ingredients:
● 1 cup of boiled black beans
● 1 cup of boiled chickpeas
● 1 cup of boiled kidney beans
● ½ cup of sliced black olives
● ½ cup of diced red onions
● ½ cup of cherry tomatoes
● ½ cup of diced cucumbers
● ½ cup of sliced bell pepper
● ¼ cup minced dill
Directions:
Mix all ingredients well into a large bowl. Store into an airtight container for up to five days.
Add your dressing of choice, top with croutons and/or your favorite toppings and serve. Enjoy!